The Green Home Tour, showcasing High Performance Homes
2021. New Year. New Opportunity.
It's back! The Green Home Tour is expanding to include more homes in 2021. For the last few years, we have called this the High Performance Home Tour. But feedback from industry professionals and the public have led us back to the original name: Green Home Tour.
SPONSORSHIP OPPORTUNITIES are available!
We realize that some builders prefer a traditional in-person tour (with social distancing protocol), while other builders prefer to participate virtually. We have lowered the rate to $700 per entry regardless (additional $100 discount for 2020 participants for their first entry). Builders who plan to be open for in-person tours may order the usual signage (4' x 4' yard sign and 5 directionals) for an additional $100.
NEW IN 2021! We have added new eligible certification programs including Environments for Living AND Duke HERO Program. Also, Builders may also enter a home that was entered in a previous Green Home Tour, if they are able to get permission from the homeowner to get the 3D video done.
All entries in the 2021 Green Home Tour will receive:
One Matterport 3D video of their home for use on the website as well as for future marketing (value of $500+).
One page in virtual magazine that includes photo (provided by builder), floorplan (provided by HBA), and special features list. Builders can indicate on their page if their entry is available for in-person tours or virtual only.
Listing on the website that includes photo (provided by builder), floorplan (provided by HBA), and special features list. Builders can indicate on their page if their entry is available for in-person tours or virtual only.
Website will be an evergreen site that is updated throughout 2021 and will include interactive and educational content.
Website analytics will be provided to builders at the end of the event and again at the end of 2021.
The Green Home Tour includes a comprehensive advertising campaign with print and radio advertising and a strong online marketing campaign.
Your goal with the Green Home Tour is to get exposure for your company as a high performance home builder. Our goal is to create a platform for you to promote yourself. This year, we are going to create a strong website that is interactive and educational as well as provide incentives to encourage more traffic to the site. This site will remain LIVE through the end of 2021 and will be updated and referenced on social media to encourage additional traffic as the year progresses.
These are unprecedented times and we are working hard to pivot with the changes and still provide a valuable marketing tool for you. We hope that you will consider entering the Green Home Tour. The deadline has been extended to February 12, 2021. If you can let me know if you plan to enter, that would be very helpful.
The online entry is LIVE.
GET INVOLVED! HBA Members interested in joining the Green Home Tour committee should email julie@hbadoc.com. It is a great way to support your HBA and meet fellow members!
Annual multi-site tour of new homes (and newly remodeled) green home certified homes.
Homes on the tour are certified through one of four programs: National Green Building Standard (NGBS), LEED Certified, Eco-Select and ENERGY STAR.
Homes are located throughout the Triangle area, including Durham, Orange, Chatham, Wake and adjacent counties.
The online Tour guide as well as mobile media apps for your iphone or ipad are great resources to preview the homes.
Due to Covid-19, the 2021 event will be a hybrid event. Some homes will be open for in-person touring with socially distancing protocol in place. Other homes may be open by appointment only. And others may have a Virtual Tour for you to enjoy from your home. Details on each home will be added to the website closer to the event dates.
Join our Interest List to be updated as we get closer to the event!
Like us on Facebook!
Questions? 919.493.8899 or holly@hbadoc.com
For more info on Green Home and Building Science, connect with the High Performance Building Council or our national partner, the Home Innovation Research Labs. Watch the video below for a testimonial from an experienced Green Home Builder.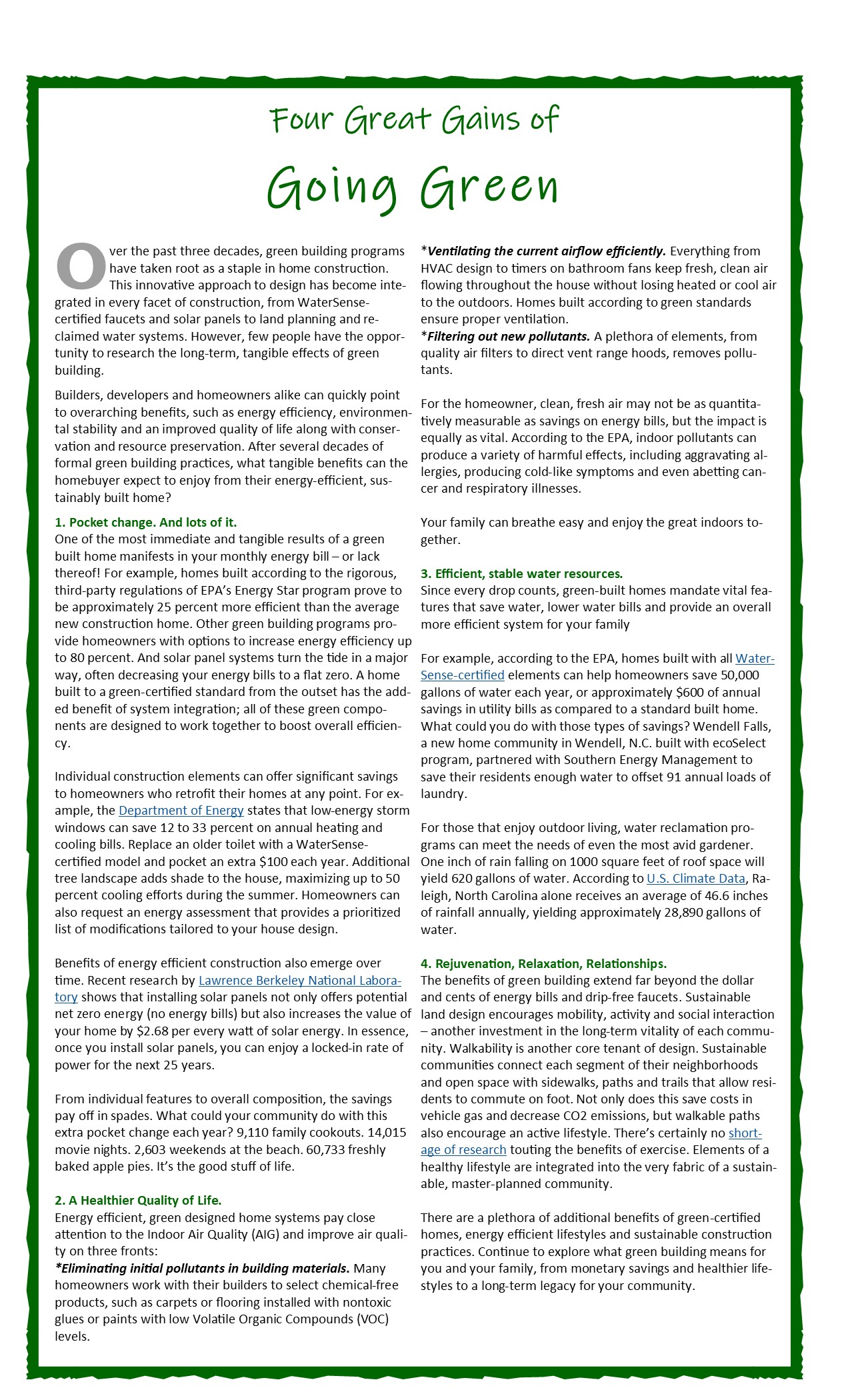 Special Thanks to the Green Home Tour Sponsors