2022 MEMBERSHIP DRIVE
New in 2022, the NAHB Membership Drive will include three periods that span from April 1 to December 31:
** Spring – April through June
** Summer – July through September
** Fall – October through December
Your #coolhba can earn cash rewards, and recruiters can receive bonus Spike points for achieving 5% or more Builder and/or Associate member net growth in any of the periods. Below is a breakdown of what your HBA can earn: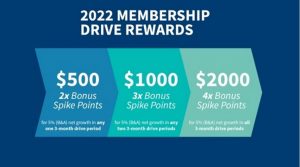 A GIFT FOR YOU FOR RECRUITING
ALL HBADOC Members who recruit at least 2 new FULL (Builder/Associate) members will receive a $50 GIFT CARD of their choice to AMAZON, BP GAS, or STARBUCKS!!
ALL participating recruiters will be entered into a GRAND prize drawing at Casino Night in November. More details to come on that!
Support your HBA! Everyone knows at least 2 people who are not members and should be! This is the time to have them join THE #coolhba AND score $50!
RECRUITING RESOURCES

TOP REASONS TO JOIN
MEMBER ROI
PROSPECT ROLEDEX
ONLINE MEMBER APPLICATION
For more information & resources, contact Selina, selina@hbadoc.com.