Fall Membership Drive: Gain of Thrones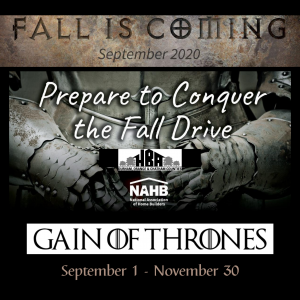 From September 1 to November 30, we have an opportunity to win prize money for net growth in Builder and Associate members as part of the NAHB fall drive campaign: Gain of Thrones.  Once we positively net three Builder or Associate members, we will earn $50 per new member during the program period, up to a maximum of $2,500.
We challenge you to recruit your fellow lads & lasses to join the #coolhba of all the HBA realm! To reign victory, you must inform the Mother of Members, Selina Day, to receive credit. The top 3 recruiters will be rewarded handsomely!

Armor up with these tools:
For more information & resources, contact Selina, selina@hbadoc.com.