Proud to be a part of the Triangle Parade of Homes event.
Congratulations to the 2020 Winners in Durham, Orange & Chatham Counties!

Visit www.TriangleParade.com for details on all the Parade entries throughout the Triangle - the site will go live the week of September 21.
PARADE BUILDERS! You are invited - Tuesday, September 22 from 5-7 pm: Builder Sign Pickup Dinner at beautiful Chatham Park in Pittsboro. Please RSVP here!

IMPORTANT PARADE DATES:
Thursday, September 24: Judging Day
Thursday, October 1: Parade VIRTUAL Awards Gala
Friday, October 2, 9am - Noon: Winner Sign & Awards Pickup at Talbert Building Supply (3101 Hillsborough Rd, Durham, NC 27705)
Come to Look, Leave Inspired!
The Parade of Homes is an annual, free tour that is open to the public and is the best way to view the newest homes and the news communities throughout the Triangle. The HBA of Durham, Orange & Chatham partners with the HBA of Raleigh/Wake to form the Triangle Parade of Homes event.
2020 Parade of Homes Dates
September 26-27, October 2-4, October 9-11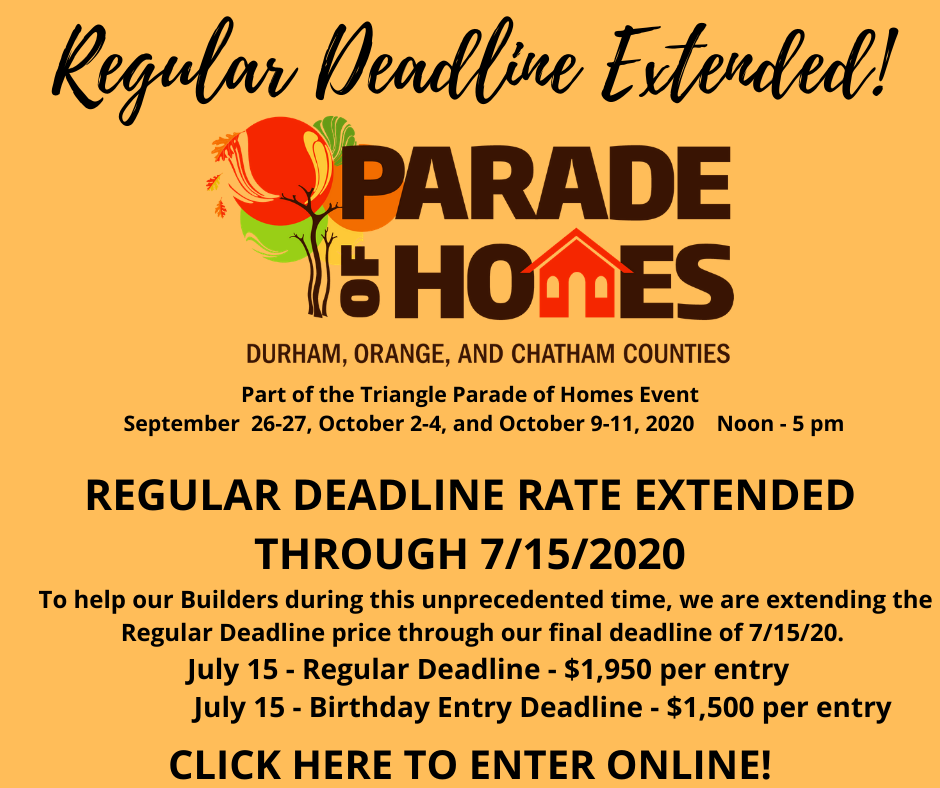 37th Annual Parade of Homes
September 26-27, October 2-4, October 9-11, 2020, Noon - 5 pm
Note that weekends 2 and 3 include Fridays!
GET INVOLVED! HBA Members interested in joining the Parade of Homes commmittee should email julie@hbadoc.com. It is a great way to support your HBA and meet fellow members!
Your dream home awaits you.
Join the Parade of Homes Interest list to get information via email about Parade of Homes closer to the event. The official website (www.TriangleParadeofHomes.com) will go live the last week of September 2020! Excellent opportunity to see the best new home offerings from the top builders of the Triangle.
Multi-Site Parade - free & open to the public – no tickets required – visit any and all homes at your leisure in the order you prefer!
No registration is required
Pick up a Durham, Orange & Chatham Tour Guide at Harris Teeter locations in late September (in the free publication racks by the entrance)
Visit www.TriangleParadeofHomes.com in late September to search homes based on specific criteria that meets your needs. There will also be a link to download the free mobile app for your smart phone!
We welcome you to use the Parade of Homes to learn more about the builders & neighborhoods that make this region one of the best places to live in America. These homes are specifically selected to represent the latest in design, trends, and styles.  With prices ranging from modest to exquisitely elaborate, there is something for everyone!
Enjoy the Parade!
Congratulations to the 2019 Parade of Homes Winners!
2020 BUILDER ENTRY DEADLINES:
Early Bird: MAY 15
Regular Deadline: JUNE 15
Final Deadline: JULY 15
The Parade of Homes in Durham, Orange & Chatham Counties is proud to be a part of the Triangle Parade of Homes event.
Parade of Homes sponsorship opportunities are available! Email Julie for details.