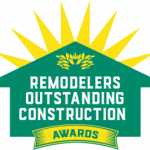 The Remodelers Outstanding Construction Awards program was established in 2013 as a way to promote and celebrate the amazing remodeling projects our members completed in Durham, Orange and Chatham Counties. The competition is open to all projects completed within the past year in categories such as Kitchen, Bath, Addition, Outdoor Living, and Whole House.
ENTRY DEADLINES
Early Bird: July 31  - $85/entry
Regular: August 13 - $100/entry
Late: September 25 - $150/entry
AWARDS NIGHT: TUESDAY, OCTOBER 29
DOCUMENTS & FORMS
Would you like professional photos of your projects? NeginNaseri Photography is offering her services for ROC Entrants! Prices range based on scope, starting at $75!  Contact Negin Naseri for more information.
negin.naseri@gmail.com 919-717-3605
https://www.instagram.com/negin_naseri
Join the Planning Committee!
Join the ROC Committee! This is a great way to get involved, meet our remodeling members and stay active in the remodeling industry. Want to sign up or receive more information? Contact Selina at selina@hbadoc.com or (919) 493-8899.
Peoples Choice Award: Actual Size Builders
Best Historic Renovation: Trinity Design Build
Best Major Renovation, $100K - $250,000: Red Ladder Residential
Best Major Renovation, $250,000+: BuildSense
Best Kitchen over $80,000: Gold Winner, Grau Building Co. / Silver Winner, Peter Thorn Builders
Best Bath Renovation, $25K - $50,000: New Vista Homes
Best Bath Renovation over $50K: Horizon Renovations
Best Home Addition: Actual Size Builders
Best Outdoor Living: Maplewood Builders
SNAPSHOT OF 2019 ENTRIES
Peoples Choice Award: Horizon Renovation
Best Historic Renovation: Minerva Design & Renovation
Best Whole House Renovation, $350K - $860K: CQC Home
Best Whole Renovation, $1M+: BuildSense, Inc.