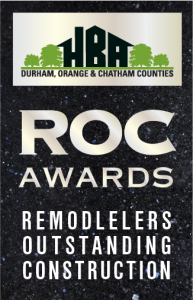 The Remodelers Outstanding Construction Awards program was established in 2013 as a way to promote and celebrate the amazing remodeling projects our members completed in Durham, Orange and Chatham Counties. The competition is open to all projects completed within the last 2 years in categories such as Kitchen, Bath, Addition, Outdoor Living, and more.
2023 ENTRY DEADLINES
Early Bird: July 21  - $250/entry
Regular: August 18 - $300/entry
Late: September 18 - $350/entry
PAY NOW, ENTER LATER. SAVE $. If you plan to submit your project(s) but need a little more time to complete the entry requirements, pay now, enter later. Email Selina Day, selina@hbadoc.com, for details.
Have multiple entries? Even better! Remodelers who enter 3 or more entries will be entered into a drawing to be interviewed during one of our episodes of our Builder Minute on WCHL Radio!! Note, you can have multiple entries on 1 project! Entry fee for each category applies.
BENEFITS TO PARTICIPATING:
You get to show off your mad skills! This event is aimed to promote HBADOC Remodelers and provide marketing opportunities for them to showcase their projects of excellence completed in Durham, Orange and Chatham Counties.
Entries submitted will be highlighted across multiple platforms such as website, social media & print!
Web: HBADOC ROC landing page
Social: HBADOC & ROC Facebook pages – builder company will be tagged & sharable
Social: HBADOC Instagram page – builder company will be tagged
Social: HBADOC LinkedIn - builder company tagged
Winners will be recognized via the same as above in addition to:
Web: Chapelboro.com Press Release
Radio: WCHL – Interview during the Builder Minute for the Winner of the Multi-Entry drawing
A beautiful Award to proudly display
DOCUMENTS & FORMS
Want to get involved?

Join the ROC Committee! This is a great way to get involved, meet our remodeler members and stay active in the remodeling industry.  Contact Selina at selina@hbadoc.com or (919) 493-8899 for more information.

Best Exterior Facelift : Trinity Design/Build
Best Historic Remodel : BuildSense
Best Home Addition: CQC Home
Best Aging in Place Upfit : CQC Home
Best Attic or Basement Remodel : BuildSense
Best Outdoor Living : Grau Building Company
Best Bathroom $25,000 - $50,000 : Horizon Renovations
Best Bathroom over $50,000 : Horizon Renovations
Best Kitchen $40,000 - $80,000 : Housing Solutions
Best Kitchen over $80,000 SILVER : Housing Solutions
Best Kitchen over $80,000 GOLD: Unified Custom Homes
Best Major Renovation $100,000 - $250,000 SILVER : Abacus Builders
Best Major Renovation $100,000 - $250,000 GOLD: Red Ladder Residential
Best Major Renovation $250,001 - $500,000 : Trinity Design/Build
Best Major Renovation over $500,000 : Trinity Design/Build
Best Major Renovation over $500,000 : Housing Solutions
Facebook People's Choice Award : Housing Solutions/ Best Major Renovation over $500,000
SNAPSHOT OF 2023 ENTRIES
Best Exterior Facelift : BuildSense
Best Historic Remodel : Trinity Design/Build
Best Home Addition: Red Ladder Residential
Best Bathroom under $35,000 : Housing Solutions
Best Bathroom over $50,001: BuildSense
Best Bathroom over $50,001: J. Hoffman Studio Design + Build
Best Kitchen under $60,000 : Wood + Water
Best Kitchen under $60,000 : Housing Solutions
Best Kitchen over $60,001 - $100-000 : Horizon Renovations
Best Kitchen over $100,001 : Grau Building Company
Best Kitchen over $100,001 : J. Hoffman Studio Design + Build
Best Major Renovation $150,000 - $250,000 : Unified Custom Homes
Best Major Renovation $250,001 - $500,000 : J. Hoffman Studio Design + Build
Best Major Renovation $500,001 : J. Hoffman Studio Design + Build
Facebook People's Choice Award: Horizon Renovations / Best Bathroom over $50,001
SNAPSHOT OF 2022 ENTRIES
SNAPSHOT OF PREVIOUS ENTRIES